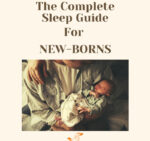 The Complete Sleep Guide for Newborns
The Complete Sleep Guide for Newborns
$95.00
short description

This guide was written with every parenting style in mind. You can incorporate it fully into your parenting and lifestyle, or take bits of it to make it perfect for you. Now you have all the tools you need in order to establish the beginning of your child's sleep journey.
This guide comes with 45 minutes of complimentary phone consultation.
PLUS if you choose to work with me after the purchase, you will get $35 off of any sleep package you choose.